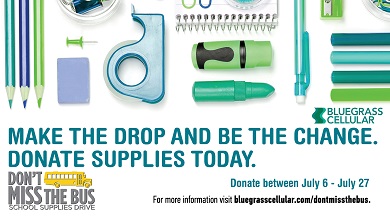 Don't Miss the Bus
Now through July 27, 2018
Don't Miss the Bus SchoolSupplies Drive (DMTB) is an annual initiative to support Hardin County students who struggle to acquire the items they need to start the school year off right.

Each July, DMTB partners place collection bins in various locations around Hardin County. Donors drop off school supplies throughout the month, ultimately aiming to fill an entire Hardin County school bus with supplies like backpacks, earbud headphones, pencils, notebooks and binders, among other items. On average, the drive raises enough items to help approximately 500 students start the school year with the tools they need to succeed. Supplies are divided among Hardin County, Elizabethtown and Fort Knox school systems.
You'll find the yellow bins at Center Court, let's fill them up for the kids!
Requested Supplies list:
Earbud Headphones*
Zip/Thumb Drives*
Backpacks*
Composition Notebooks*
Calculators
Pocket Folders (Multiple Colors)
3-Ring Binders
#2 Pencils
Glue Sticks
Wide-Ruled Paper
Single Subject Notebooks
Rulers
Safety Scissors
Crayons
Ink Pens
Colored Pencils
Tissues
*Priority Item