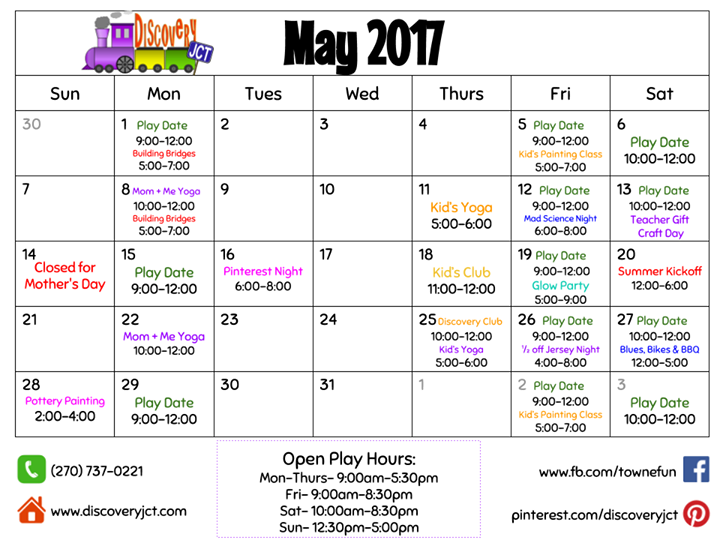 Discovery JCT offers something for everyone!
Now through September 30, 2017
We bring fun to learning at Discovery JCT! In our hands-on STEAM center children can build, create, imagine and explore!
In addition to Open Play we also offer field trips for schools, day cares and preschools, classes, yoga for kids, school break camps, workshops, play dates, crafting night, special needs nights, home school programs, Scout badges and more!
Here's a sample of the activities:
Yoga with Jenn- 45-60 minute yoga class for kids ages 5-12. $6/child
Saturday Play date- $5/child for our morning play date
Family Game Night- join us for a BIG game of taboo, popcorn, drinks and a raffle! $20/family early registration, $30/family walk-in
Building Bridges Children- a workshop and play date for children ages 2-12 with special needs. $10/child
Monday and Friday play dates- every Monday and Friday morning from 9-12. $5/child
Planner/Scrapbook Night- Come chat and create with other moms while kid's enjoy open play!
Building Bridges Teens/Adults- a workshop and play date for teens/adults with special needs. $12/participant
Book Club- Love reading? Join other parents in our awesome book club while the kids enjoy open play!
La Leche League meeting- support for breastfeeding moms! Free
Kid's Club- a 45 minute fun lesson and time for Open Play. Free
Pinterest Night- Time for moms to craft! This month is string art! $30/early registration $35/preregistration $40/walk in
Discovery Club- explore extreme weather with Mark the weather forecaster and have fun with green screen effects! Homeschool and After School Clubs $8/child
Jersey Night- Come in your sports jersey and get HALF off admission!
For additional information, find them on the web @ Discovery JCT
For information on Birthday Parties: Birthday Party Information